Azimut Magellano 66:  a megayacht in just 20 meters that offers the freedom of long range cruises with the comfort and elegance of home.
In 2008, Azimut invented a new way of cruising with Magellano, the first "modern trawler". This extraordinary navigator features Dual Mode hulls, large interiors for extended stays, and a chic and timeless style that is yet again setting the trends in the nautical world.
Also available in the Navetta Version, with a saloon and dining area that can be separated from the galley and pilot station when desired for absolute privacy. The entire main deck is on one level with enormous windows facing out over the water. There is plenty of exterior and interior storage to keep everything perfectly organized, all in a sophisticated and timeless atmosphere. 
The Magellano 66 is built on the same foundation that makes all Magellano Collection yachts so special: the "Dual Mode" hull. The goal is to offer a versatile boat that provides a comfortable ride even in moderate to rough seas. Accomplishing this required developing keels that were profoundly different from those found on planing hulls. Magellano hulls soften the impact of waves, cutting through them with the vertical bow.
At the same time, the shape and volume of the forward section minimizes pitch and provides constant buoyancy support, even when the boat is descending the trough of a wave. As a result, the water has a hard time reaching the main deck, providing a sense of security both to those piloting the vessel and their guests.
The Magellano is a design that allows you to eat up the miles; the pleasure of cruising in its purest form, under the banner of Italian Design elegance.


With two Volvo Penta D13 800 HP diesel engines, Magellano's performance is perfectly in line with the philosophy of a modern Long Range yacht. Travelling at 9 knots in full displacement mode, it has a range of over 900 miles (including a 10% reserve). The double chine Dual Mode hull provides a purposeful shape that optimizes cruising both in displacement and planing modes, for a cruising speed of 16-18 knots and a maximum speed of 22 knots.
The new
Dual Mode Hull generation: smooth and unslammable, it ensures comfortable navigation and excellent seakeeping even in moderate sea conditions.
The upper chine provides a larger beam at low speed and at higher speed, the flow separates from the lower chine which is reducing the friction and increasing range and fuel efficiency.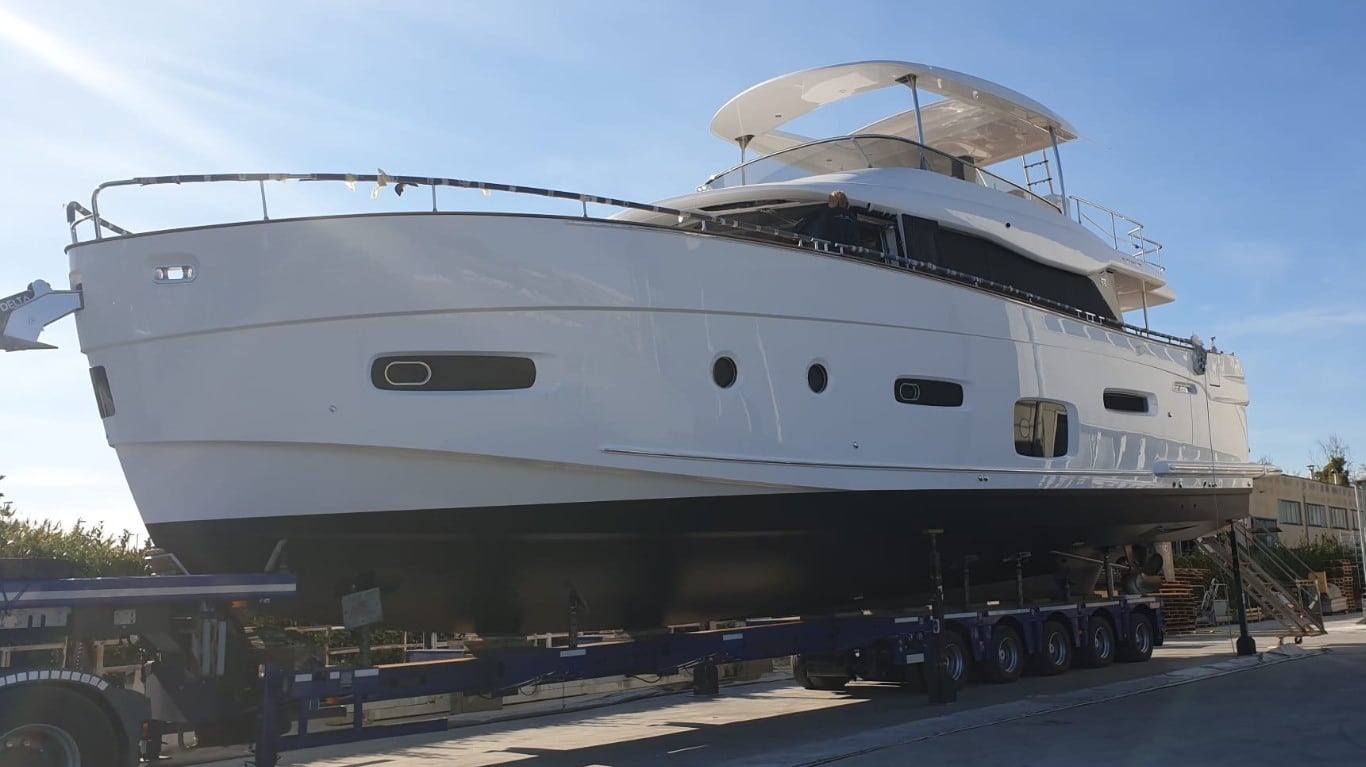 Advance Package:
     Additional control for electric searchlight
     Air onditioning system 92000 BTU
     Chaincounter control on helm station
     Decor upgrade
     Electric mooring winches in cockpit
     Electric searchlight
     Extra conduits
     Fire extinguisher system
     Fresh water connection for fly and bow washing
     Miele Appliances (upgrade for oven and cooktop)
     Onan 19 kw Generator
     Proportional Bow Thruster 10 kW with Xenta Joystick
     Racor filter for generator
     Racor filters for main engines
     Shore water plug
     Side boarding gates in cockpit
     Teak on side decks
     Watermaker predisposition (salt water – fresh water – electrical)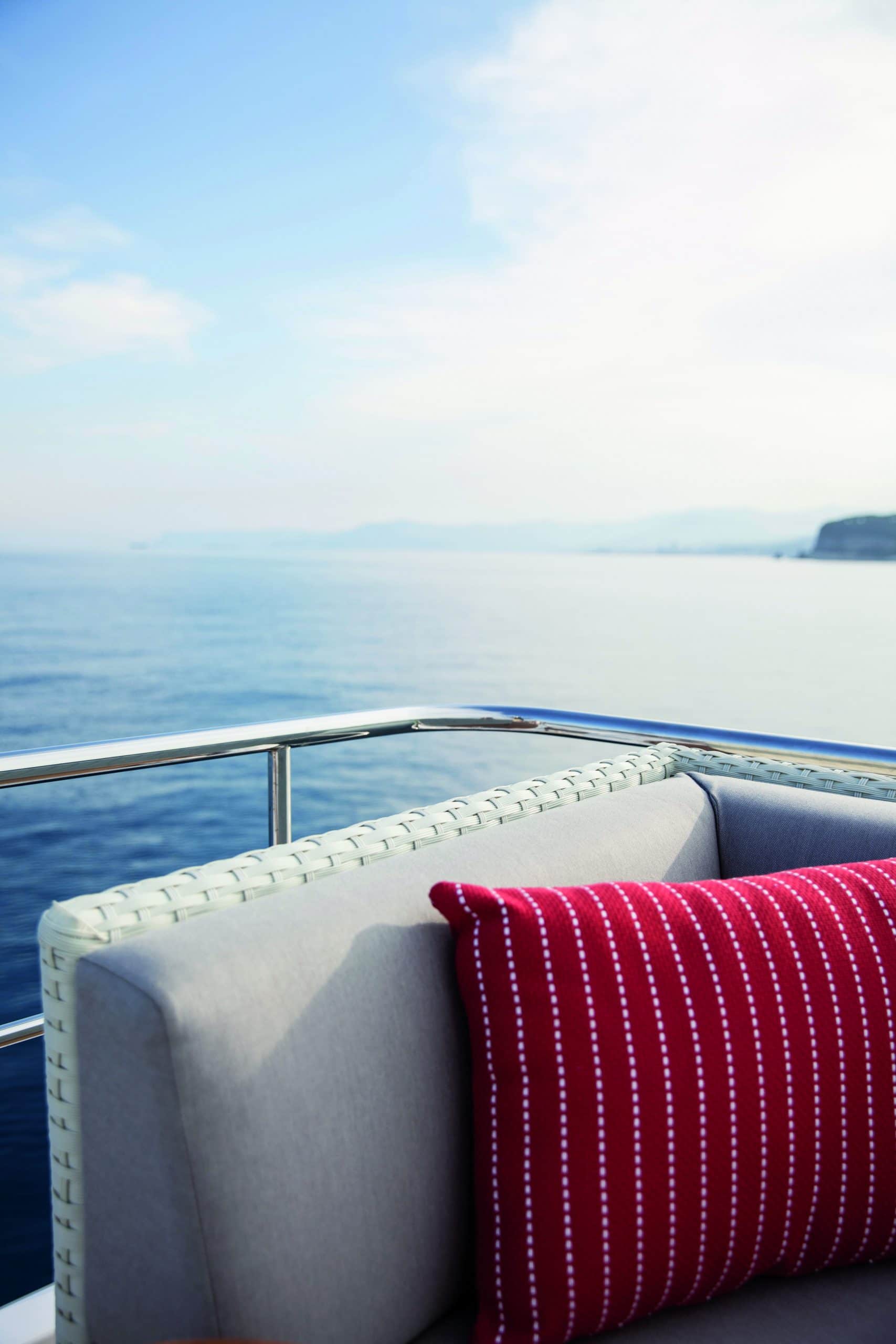 Options:
Seakeeper stabilizer NG16
Additional Seakeeper control station on fly
Proportional Sidepower sternthruster 10 kW
Cockpit furniture with refrigerator
Cockpit table
Coffe table at bow area (electrical hi-low system)
Co-pilot seat on flybridge
Dimmered lights on flybridge
Hard top on flybridge with electrical awning
Manouvering lights on aft flybridge
Teak on flybridge
Telescopic gangway
Under water lights 2x
Bidet in master head
Co-pilot seat in main helm
Fourth cabin with 2 beds
Lower deck lights with dimmer
Navetta version, galley and helm station separated
Safe in master cabin
Salon furniture on starboard side with sofa and predisposition for  hi-lo system for TV (TV and Hi-lo system not included)
Sofa bed in salon
Toilet with bidet faucet feature 
Wooden floor in salon, galley and helmstation 
Barbecue on fly
Dishwasher in galley
Icemaker on flybridge
Stainless steel refrigerator at sight in galley 300 lt
Washer and dryer (two separate units)
Winecooler in salon
Automatic trimtab control
Raymarine AIS 700
Raymarine CP100 fishfinder
Raymarine Gold Package
Raymarine videocameras:
(CAM200IP in cockpit and on fly and AX08 in engine room)
Hi-lo TV mechanism in salon (TV not included)
SAT TV system predisposition
Ronald Vermeulen 0031 (0) 6 21 647 385
Tonny Burie 0032 (0) 475 235 623
Harry Frauenfelder 0031 (0) 6 53 452 283